Full heating installations
We have contractors that provide excellent central heating installation system, you just need to decide what are you looking for. Our new combi-boilers provide constant heat and hot water on demand and don't eat up valuable space with tanks or cylinders. You may wish to consider installing a central heating system that runs on renewable energy such as solar panels or heat pumps to help save money.
When it comes to central heating installation - whether you're planning to replace your old heating system or install one from scratch, you can have peace of mind as Candorcontractors have arranged some great deals with the world's biggest and best manufacturers. That's how we can supply and fit every component to the highest standards of performance and design. Our huge range of central heating installation systems means there's one that's perfect for your lifestyle. For instance, with the latest controls that react to temperature changes from room to room, your new central heating system can offer you controllable heating that's smart enough to reduce energy consumption and cut heating bills.
Service boilers
A faulty boiler can be extremely dangerous, not least because of the increased risk of carbon monoxide poisoning. It's therefore best to get your boiler serviced every year to make sure it's working properly. Candorcontractors offer monthly and annual payment plans that include regular servicing, certification and 24 hour call out care should anything go wrong.
Upgrades
Boilers account for around 55 per cent of what you spend in a year on energy bills, so an efficient boiler makes a big difference.
Replacing an old gas boiler with no controls, with an A-rated high-efficiency condensing boiler and full set of heating controls will significantly cut your home's carbon dioxide emissions - and could save you as much as £305 a year.
Upgrading an old boiler without controls with a new A-rated condensing boiler with a programmer, room thermostat and thermostatic radiator controls (TRVs) could save you ….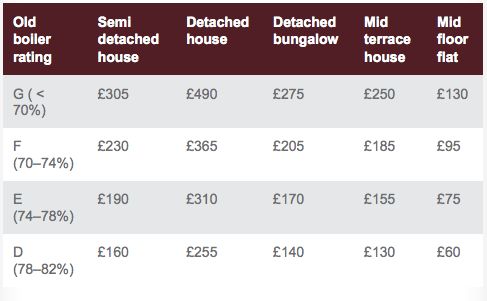 These are estimated figures based on installing a new A-rated condensing boiler with a programmer, room thermostat and thermostatic radiator controls (TRVs) in a gas-heated home from an older boiler without controls. Savings will vary depending on the size and thermal performance of your home.
Modern boilers are more efficient for several reasons, but their main advantage is that they are all condensing boilers. All well-maintained boilers burn their fuel very efficiently, but they inevitably lose some heat in the hot gases that escape up the flue. A condensing boiler has a bigger heat exchanger, so it recovers more heat, sends cooler gases up the flue and is more efficient.
Under floor heating
Underfloor heating is a modern and high-spec feature - allowing you to enjoy the luxury of warm floors during cold winter mornings and even providing a good selling point to push up your property's resale price. A large system can do away with the need for bulky radiators, offering extra space, a clean decorative finish and provides warm and cosy stone and tile floors.
Underfloor heating is thought to be a more efficient way of heating a room - where that room's walls, doors and windows are well insulated - because of the way the heat is distributed. An underfloor system heats a larger surface area from the floor upwards at a lower temperature, resulting in a more consistent temperature.
Candorcontractors will design and install an underfloor system to your unique specification, providing you with a luxurious bathroom suite that enhances the value of your home.
Sprinkler systems
Your garden is a place to relax and feel good. To ensure that your plants and your lawn stay green and healthy, the right watering is essential. Candorcontractors offer you great solutions for the areas of watering, water transportation, water pumps and automatic watering. There are efficient watering solutions for almost every kind of garden.
Sprinklersystem or Micro-Drip-System can be designed to work automatically with the connection to a watering computer. So you can relax or go on holiday with your plants being taken good care of.